"*" indicates required fields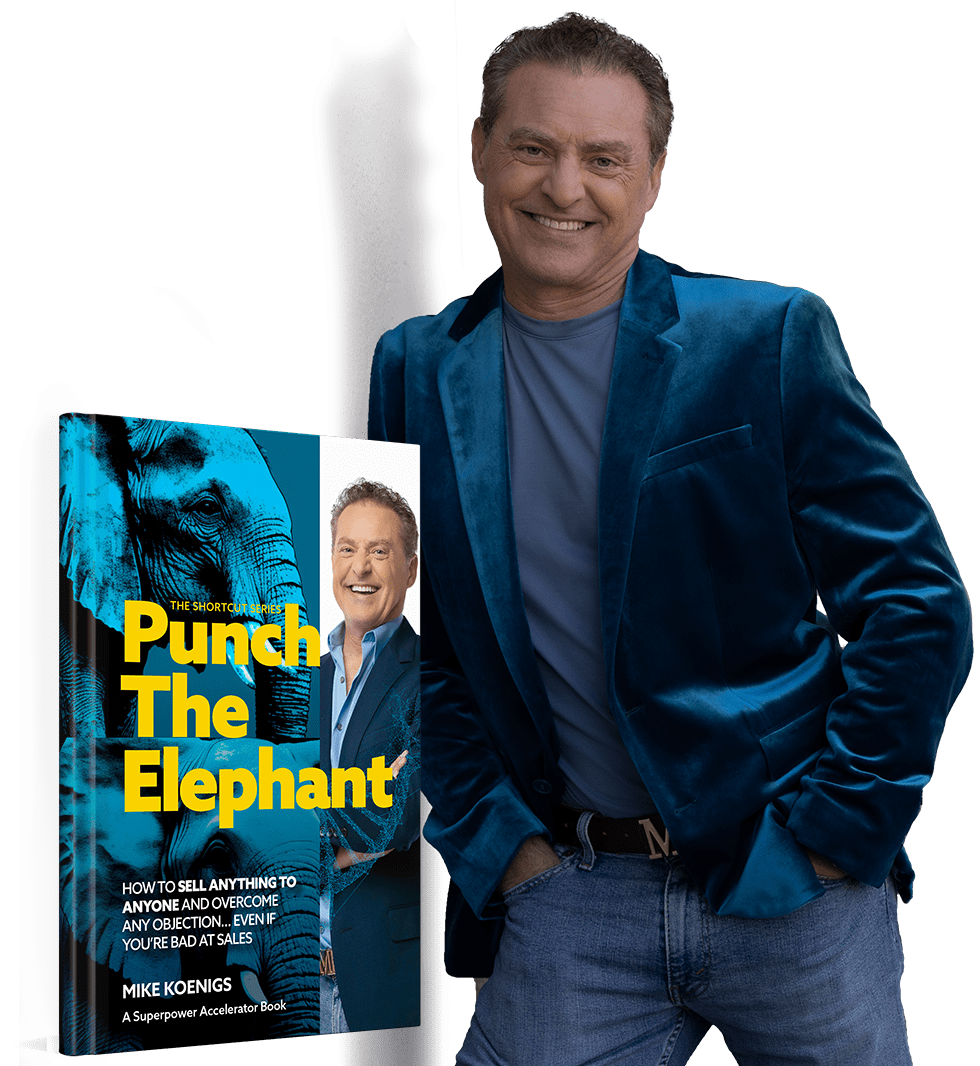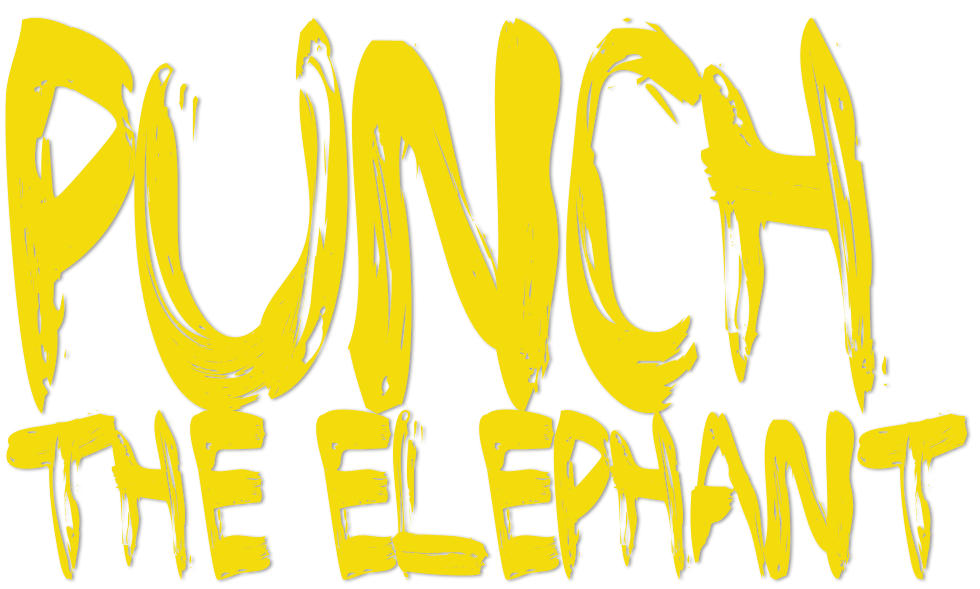 Here's how to punch up your sales game
– Mike Koenigs, 17x Best-Selling Author of "Your Next Act"
To bulk order copies of Punch The Elephant, please contact us.
Kindle and paperback copies are available on Amazon
Mike is one of the world's top closers. If you follow what he says, your sales numbers will only go up."
Craig Clemens, Co-Founder of Golden Hippo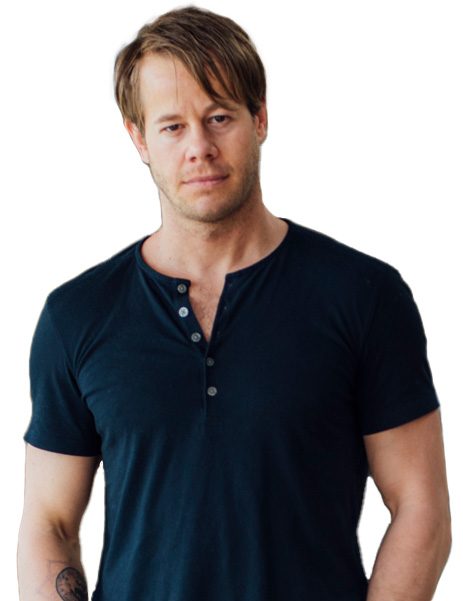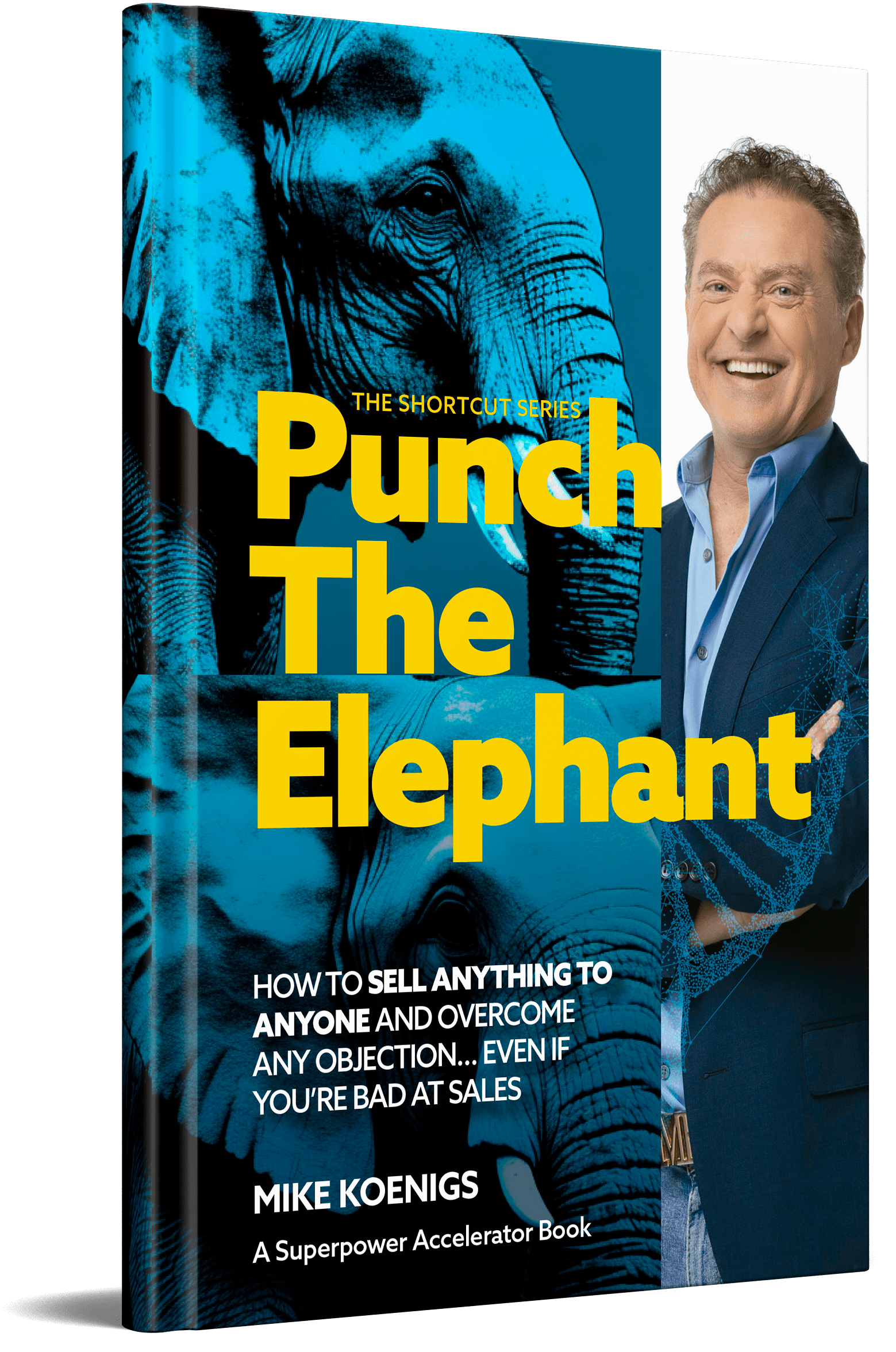 Punch The Elephant
This step-by-step guide will show you:
HOW most salespeople get things really wrong (and end up sinking the sale before they even open their mouth)
HOW to create a compelling sales story that sets you up for success
The most common OBJECTIONS and how to overcome them
The FIVE QUESTIONS that determine the success of your close (skip any of them, and you're in trouble)
The "Eels" who are likely to kill your deal — and how to head them off before they exert any influence
Ways to use Ai to make your sales process EVEN MORE powerful
Inside, you'll find a framework and examples to increase and improve your sales no matter whether you have never closed a deal or are a billion-dollar seller.
Your brain is on fire. You are an arsonist of the mind! In all the best ways."
Peter Diamandis, Founder Abundance 360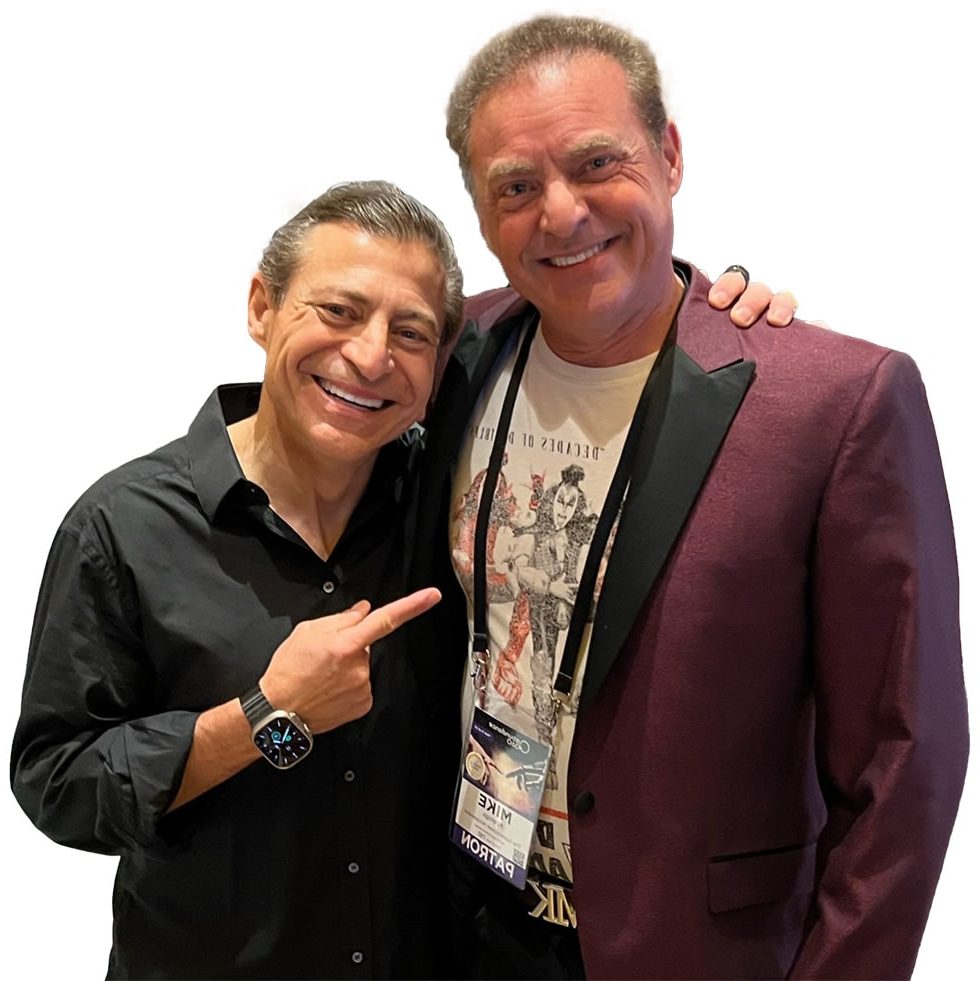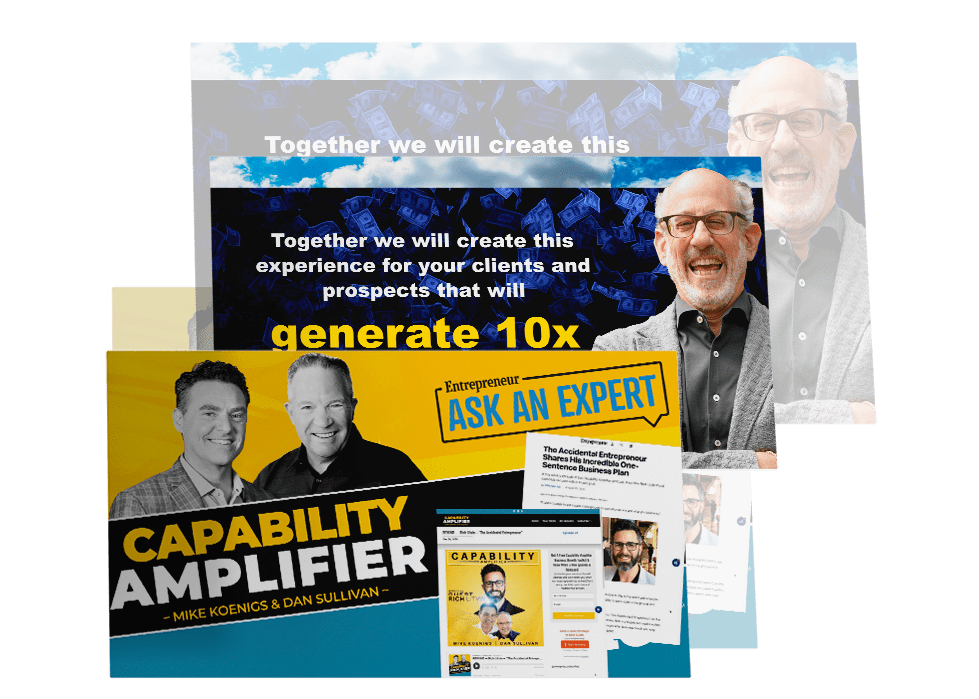 Get a Copy of Mike's Million Dollar Closing Sales Presentation
Check out Mike's sales presentation that he uses to close $100K – $1M deals and see how he uses the system to sell the system.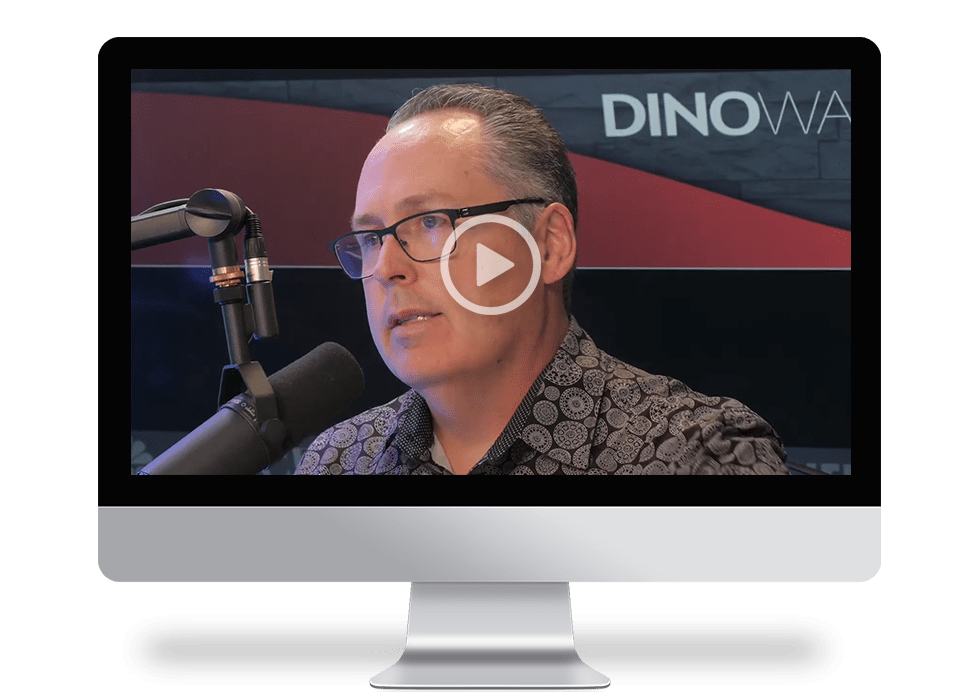 Watch and Learn How Eels Kill Deals
Become an eel killer by watching Mike train Dino Watts on the WHAT to ask, HOW to listen, HOW to script, and the emotional, meaningful message that will turn the eel into an advocate who will sell for you.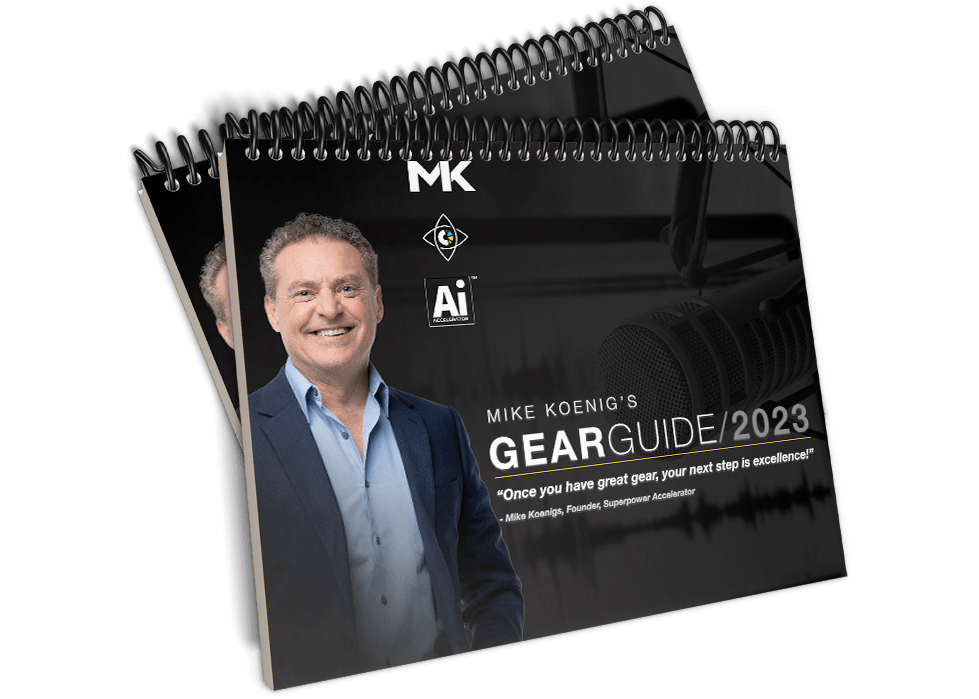 Step Up Your Tech Game
You've got to look and sound remarkable if you want to close six-, seven- and eight-figure deals.
Mike will give you his best resources and hardware, so you can look and sound like a million bucks.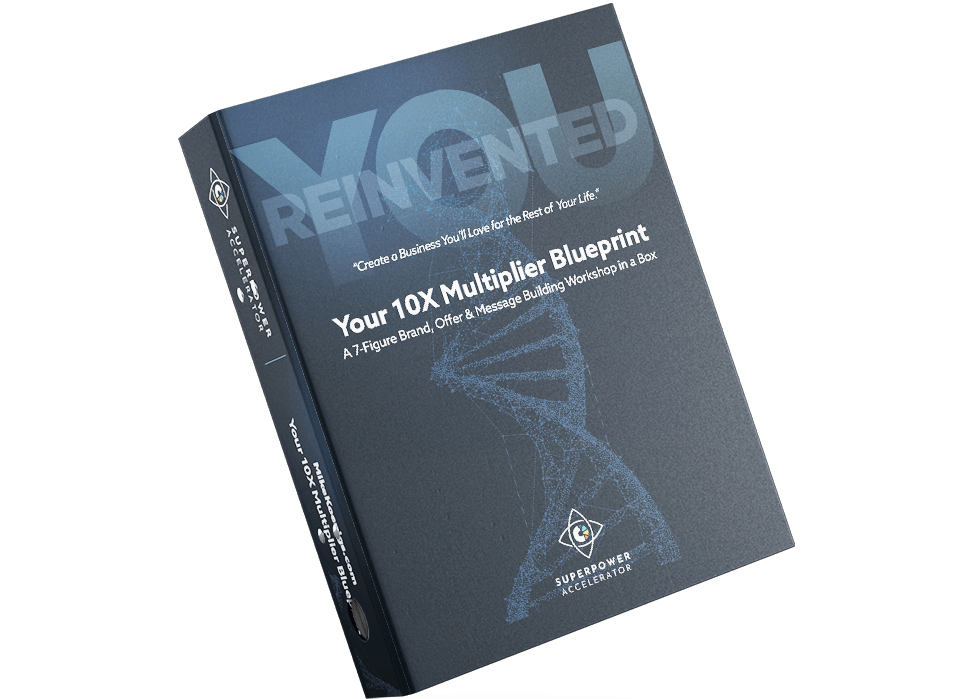 Free Tools From Mike's $2K 10X Multiplier Blueprint
Get Mike's 5-question close that he and his clients have used to generate over $200M worth of sales and find out how you can do it too.
Multiply Your Productivity with Ai
Elevate your business and life with the best Ai tools of today. Mike has spent countless hours exploring the best and worst tools and gathered his top favorites in his Ai Directory. Multiply your productivity by over 10x now.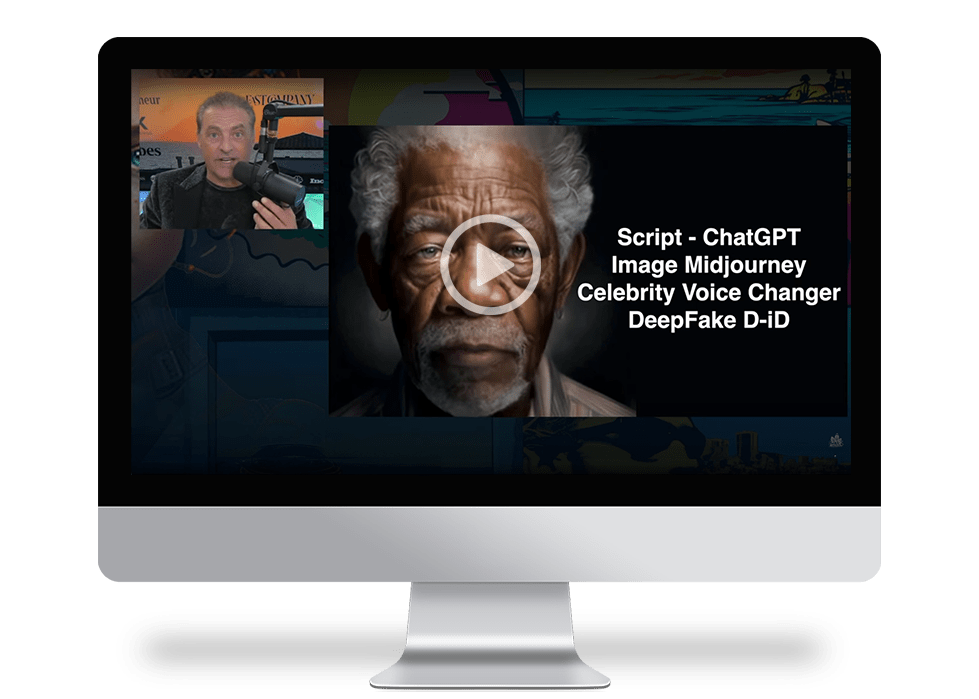 Learn How to Use the Best Ai 
Watch a replay of Mike's most insightful Ai predictions video. Mike shows the who, the what, and the how to use Ai in your everyday life as a busy entrepreneur.
Learn more about which Ai tools Mike loves and how he leverages Ai.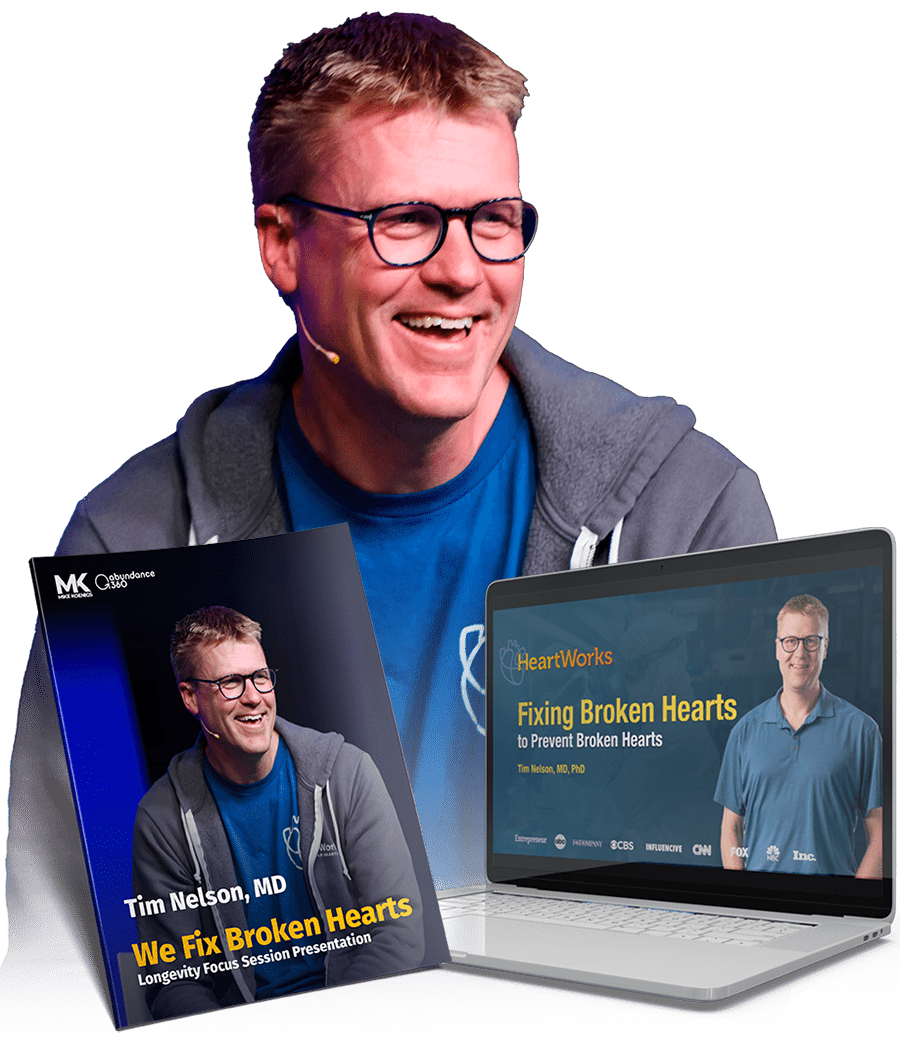 Tim Was Able To Earn $1 Million In One Day Of Fundraising
Dr. Tim Nelson is the owner and founder of HeartWorks, where he takes saving lives seriously but before, Tim's sales pitch was a snore.
Check out the sales pitch that Mike took to the next level.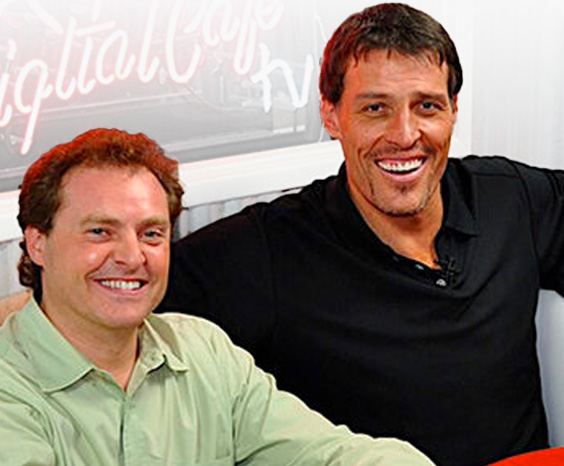 "Mike is an extraordinary man."
"He's brought me insights on how to reach people on the Internet that are so valuable. This is a man you should deal with. Take advantage of what he has to offer."
– Tony Robbins
If you want to punch up your sales game or think you hate selling, this book is for you
Serial entrepreneur, business expert and best-selling author Mike Koenigs has spent decades studying human psychology, motivation, business, and language, in order to crack the code on sales.
The result: A sure-fire way to get people to not just buy from you, but want to buy from you (there's a big difference!).
The Superpower Accelerator Lightning Close is so straightforward and simple, it will outperform any other "process," "framework," or "secret" being touted by the so-called gurus and experts.
It's been used by thousands of people in hundreds of different industries to "punch the elephant" and make the sale (one client closed a deal worth $35M within days of learning this method!)
Mike Koenigs is a serial entrepreneur with five exits, judge on Entrepreneur.com's "Elevator Pitch" TV show, 17x bestselling author, contributor and columnist for Entrepreneur, Fast Company and Forbes magazines. He co-hosts two podcasts, "Capability Amplifier" with Strategic Coach's Dan Sullivan and "The Big Leap" with NYT Best-Selling Author, Gay Hendricks.
He's consulted, and advised major brands including Sony, BMW, General Mills, 3M and celebrity clients including Tony Robbins, Paula Abdul, Richard Dreyfuss, Dave Asprey, John Assaraf, Brian Tracy, Peter Diamandis, Daniel Amen, and Darren Hardy.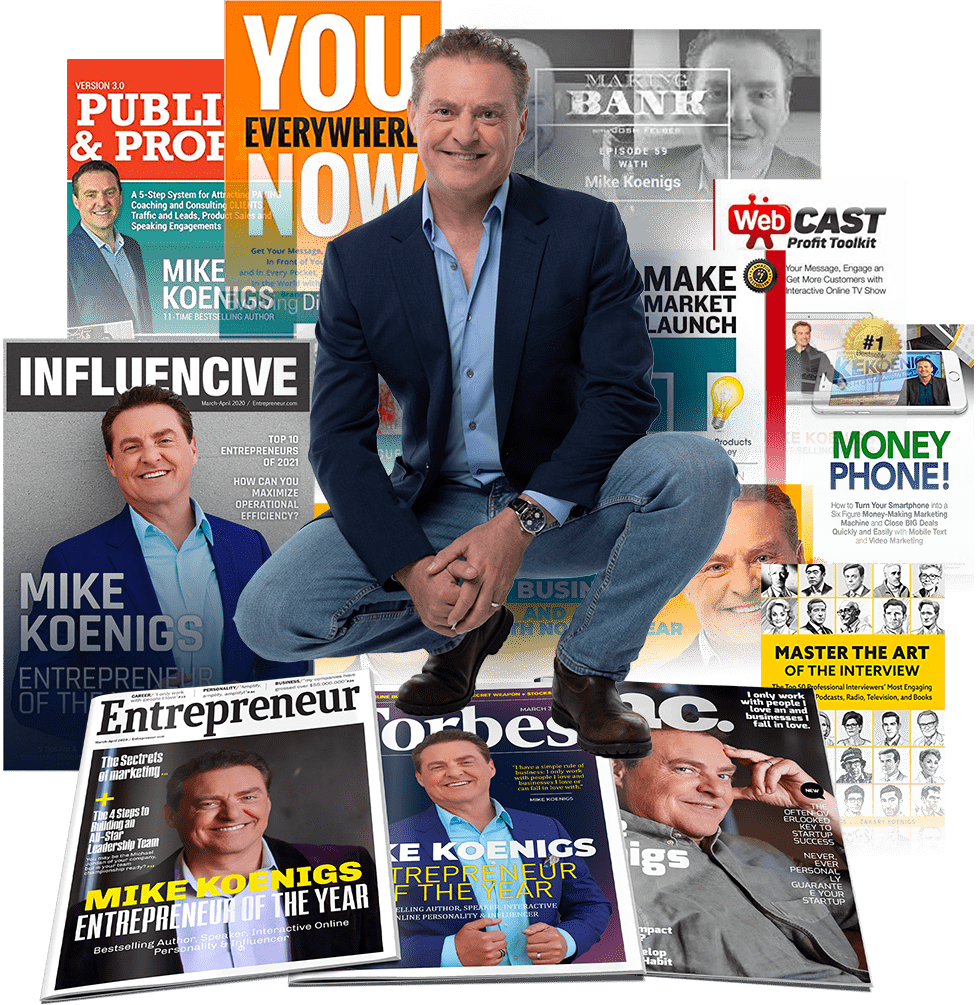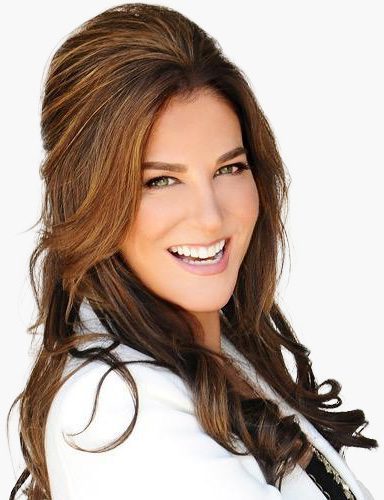 "Mike Koenigs is a master innovator that is always on the cutting-edge of marketing and the business world.
He has helped me and so many of my clients stand out from the crowd in the most ingenious ways. If you're looking to get visible in the fast-paced world of marketing, Mike is your guy!"
– Allison Maslan, Pinnacle Global Network, CEO

Mike Koenigs
17-Time Best-Selling Author
Serial Entrepreneur, VC and Angel Investor, Judge on Entrepreneur.com's "Elevator Pitch", Forbes and Entrepreneur Writer, 17-Time Bestselling Author, Mike Koenigs helps "Experts Build Empires" and "Category of One" personal brands. He works with business owners and entrepreneurs so they get PAID for BEING, instead of DOING by elevating their status, authority, thought-leadership and message to create more impact, income and freedom.
His companies have helped over 61,000 customers in 156 countries get noticed, amplify their message, create awareness, productize their knowledge, become bestselling authors, in-demand speakers and media masters to gain attention and engagement. He's helped over 1,800 business owners become bestselling authors.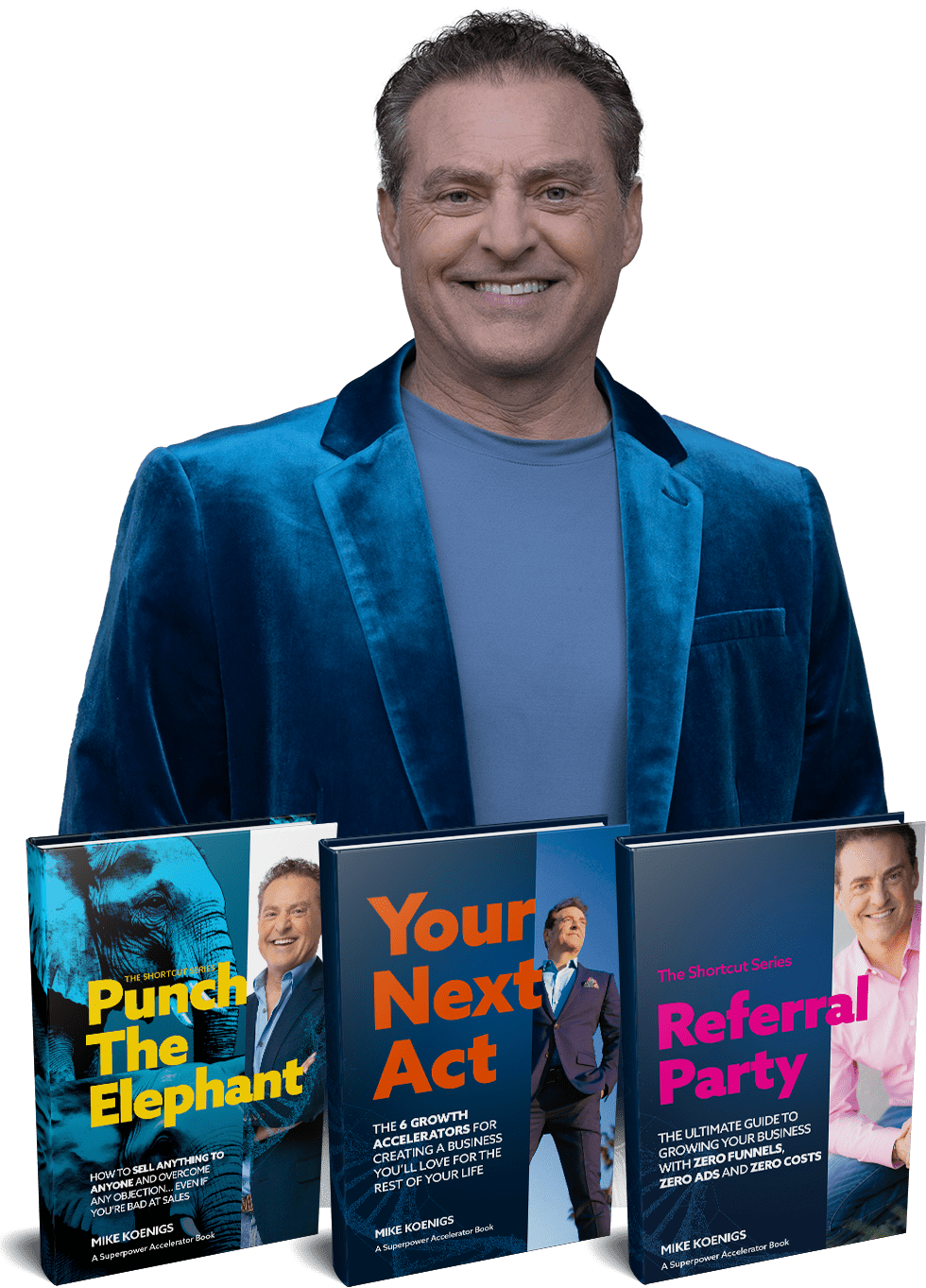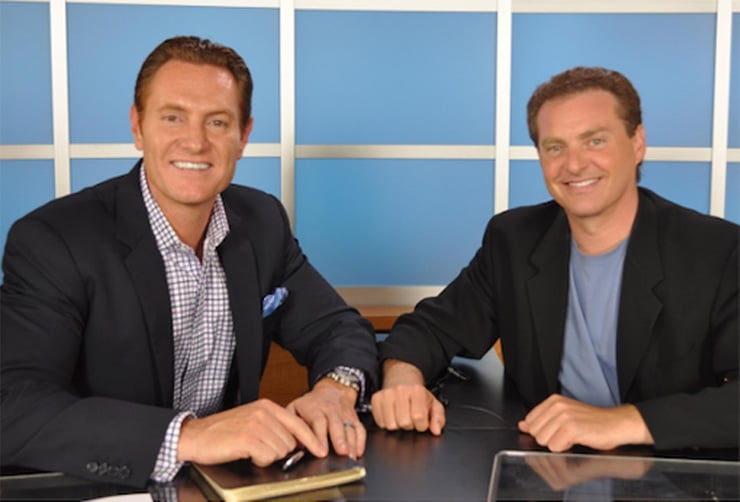 "Mike Koenigs is the "Doc" Brown of marketing and technology.
One question or one problem scenario unlocks his brain and 20 to 30 ingenious ideas pour out of it. One idea grew my database from 30,000 to 800,000 in 14 months. Another one contributed to a product launch that generated a million dollars in three days. Most recently another contributed to a marketing process that is now generating $250,000 a week. Mike Koenigs is a brilliant marketing muse who can make you money!
Darren Hardy, Founding Publisher/Editor SUCCESS magazine and Mentor to CEOs and High-Performance Achievers
Are You Ready to Experience the Superpower Accelerator?
Contact Mike Koenigs and his team to create a business you'll love for the rest of your life and shortcut the sales process.